The Board of Directors consists of 12 members appointed by the two governing County Boards of Commissioners, Bay and Arenac. Based on the most recent population census from 2012, ten BABH Board members are appointed to represent Bay County and two are appointed to represent Arenac County. For more information please contact Sara McRae at the Board Office either by calling 989-895-2348 or via email smcrae@babha.org.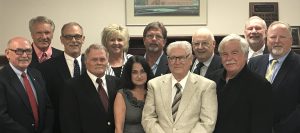 Front Row: Richard Gromaski, James Anderson (Vice Chair), Terri Marta, Richard Byrne (Board Chair), Ernie Krygier, Robert Pawlak (Treasurer)
Back Row: Patrick McFarland, Robert Luce, Colleen Maillette (Secretary), Thomas Ryder, Thomas Starkweather, John Andrus
Board meetings are scheduled for 5:00 pm on the third Thursday of each month at the Behavioral Health Center, Room 225, 201 Mulholland, Bay City, MI 48708, with the exception of the August meeting which is held at the Arenac Center, 1000 West Cedar Street, Standish, MI 48658.   
2019 Public Notice of Board Meetings
2019 Meeting Schedule of Board Committees – Public Notice
Meetings of the Board
Board Meeting Agenda Packets & Minutes
Committees of the Board
Health Care Improvement & Compliance Committee
Personnel & Compensation Committee
Recipient Rights Advisory Committee
 Board of Directors Monthly Calendars
2016 Michigan Young Adult Survey
Public Act 202 Required Postings
Board of Directors Training