Bay-Arenac Behavioral Health Authority (BABH) manages behavioral health (mental health & substance use disorder) services in Arenac & Bay Counties.  BABH contracts with local behavioral health providers to secure the services needed in each county.
Bay-Arenac Behavioral Health is also the community/public mental health services provider for Arenac and Bay counties.
BABH is a governmental Michigan Community Mental Health Authority.
Bay-Arenac Behavioral Health is accredited by the Commission on Accreditation of Rehabilitation Facilities (CARF) www.carf.org  for the following programs:
Three-Year Accreditation
Assertive Community Treatment (ACT): Mental Health (Adults)
Case Management/Services Coordination: Integrated DD/Mental Health (Adults, Children, Adolescents)
Community Integration: Psychosocial Rehabilitation (Adults)
Crisis Intervention Integrated DD/ Mental Health (Adults, Children, Adolescents)
Intensive Family-Based Services: Family (Children, Adolescents)
Outpatient Treatment: Integrated DD/Mental Health (Adults, Children, Adolescents)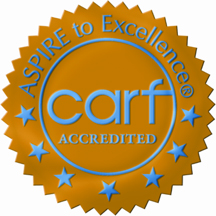 Bay-Arenac Behavioral Health is a Member of the Mid-State Health Network Provider Network:
Mid-State Health Network (MSHN) A Pre-Paid Inpatient Health Plan for Medicaid Specialty Behavioral Health Services (for Arenac, Bay, Clinton, Eaton, Ingham, Midland, Clare, Gladwin, Isabella, Mecosta, Osceola, Newaygo, Huron, Montcalm, Gratiot, Ionia, Tuscola, Saginaw, Jackson, Hillsdale, and Shiawassee counties)
For More Information Visit: www.midstatehealthnetwork.org